ASHE Cuyahoga Valley Awards
2018 Outstanding Highway Project Award – under $5 Million
State Route 619/Pickle Road Roundabout Project
Designer:  American Structurepoint, Inc.
Contractor:  Karvo Companies
Owner:  City of Green
2018 Outstanding Highway Project Award – over $5 Million
East Summit Street Improvement Project
Designer:  AECOM Technical Services, Inc.
Contractor: Kenmore Construction Company, Inc.
Owner:  City of Kent
2014 Outstanding Highway Project Award – under $3 Million
Walnut & Cherry Complete Street Bike Lanes

Left to Right: Nick Loukas, Karl Oprisch, Ed Molina, Jason Fescemyer, Dan Moeglin, Mike Swan, Kevin Kehres
2014 Outstanding Highway Project Award – over $3 Million
Crain Avenue Bridge

Left to Right: Mike Garofalo, Mickey Marozzi, Jim Bowling, Brian Dell, Shelly Kendrick, Kevin Kehrus
2013 CFCE Scholarship Award

2013 CFCE Scholarship Award at the CFCE Scholarship Breakfast at University of Akron; Left: Ryan Bonzo (Scholarship Recipient); Right: Kevin Kehres (ASHE Chapter President)
Outstanding Member Award for 2012

James Swartz awarded "Outstanding Member Award" by Kevin Kehres
2013 Outstanding Highway Project Award
Project: Riverland Avenue Bridge Replacement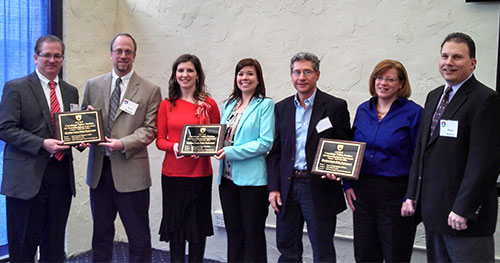 Left to Right: Keith Bennett (Stark County Engineer), Scott Basinger (Stark County Engineer), Shelly Kendrick (ARCADIS), Erin Curtis (ARCADIS), Greg Monsanty (Wolf Creek Engineering & Construction), Sue Monsanty (WC), Kevin Kehres (ASHE Cuyahoga Valley Section President)
2012 Outstanding Highway Project Awards
Projects Under $3 Million in Construction Cost
The winner of the award for projects under $3 million in construction cost is Seasons Road Reconstruction; Left-to-Right: Kevin Kehres, Jim McCleary City of Stow, John Chiarappa and Bob Baker from Karvo Paving Company, and Tony Avolio from City of Stow (GPD Group did not have a representative).
Projects Over $3 Million in Construction Cost
The winner of the award for projects over $3 million in construction cost is South Main Street Roadway Improvements; Left-to-Right: Jim Weber City of Akron, Scott Cook KCI Associates, Ben Jones Cioffi Construction Company, and Kevin Kehres.
Outstanding Member Award for 2010
A lifelong resident of Canton, Michael J. Rehfus graduated from Canton McKinley High School in 1978, and he earned a Bachelor of Science degree in civil engineering from The University of Akron in 1983. He earned his classification as a registered professional engineer in 1988 and as a registered professional surveyor in 1991. While in college, he worked as a co-op student for the Ohio Department of Transportation.
In March 1984, he began to work for the Stark County Engineer's office. He became the County Bridge Engineer in 1990, the Chief Deputy Engineer in October 1998, and the Stark County Engineer in January 2003. He was elected to serve as the Stark County Engineer in November 2004 and November 2008.
During his service as the Stark County Engineer, which he thoroughly enjoyed and appreciated, he oversaw many visible projects, including capital improvements to Stark County's roadways and bridges. One such visible project is the Hall of Fame bridge over I-77, which Mike had an integral part in planning. He was named the 1994 Young Engineer for Canton Regional Society of Professional Engineers (CRSPE), was President and long time Board Member of the local American Society of Highway Engineers (ASHE) section, was Chairman of District 19 of the Ohio Public Works Commission, served as Board Member of the Stark County Transportation Improvement District, was on the Canton Joint Engineering Council (CJEC), and served as Committee Chairman for the County Engineers Association of Ohio (CEAO). He was a constant proponent of the highway industry through these various organizations and through his commitment to Stark County's infrastructure.
Sadly, Mike passed away on November 10, 2009 at age 49, after a substantial battle with cancer. He is survived by his loving wife of 23 ½ years, Debbie, and their five children, Jenny, Katie, Mike Jr., Matt, and Krissy. He was much beloved by all who were fortunate enough to know him and will be dearly missed.